Oral Histories
To truly know the history it is crucial to understand it and oral histories are one way we can accomplish that. Whenever we can we will complete oral histories and post the sound files here for you all to listen to! These are among our favorite things to do as the people are always fascinating and capivating. Our oral histories will be kept here, at the Washington County Museum, and at Pacific University in the Archives. Settle in and have a listen!
Please contact Dirk Knudsen for an Oral History for you or your loved ones to be completed.
Email dirkknudsen@gmail.com
Scroll Down To Pick An Oral History
Click Play and Be Patient a Minute or Two and the Interview Will Play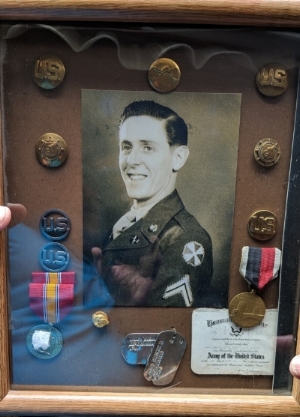 Stan and Jean Long of Greener Road live in the far North reaches of Washington County (Oregon) high above Mountaindale and they were quite a treat to interview. I had no idea of the family background and was a like a child in a vast Candystore as we wandered the past through the decades going back into the 1800's. By the time we were done in this almost 2 hours session we had covered their families which included the great B.W. Barnes, Sheriff Bud Barnes, the Vanderzanden Family, the Long Family including Newspaperman L.A. Long, the Haney family, and a very interesting story about how David Hill in Forest Grove got its name! By the time we were done I had been fed, chatted up, taught history, and offered a warm welcome to come back. And go back I will! The best part of this entire interview was seeing two people still in love almost 7 decades after they met! They still have that twinkle in their eyes and the pep in their step. Stan will be 90 years old next month and Jean is 85! If you can not learn from this interview what can you learn from? Thanks to the Long family for hosting me and opening up their home and my mind to the possibilities of life which are as endless as the seas and the sky above!
KUIK RADIO 1360 AM Goes off the Air 3/31/2018 - Founder Don McCoun talks with Dirk Knudsen of HIllsboro, Oregon about 40 years at the helm of the Station and some of the things he remembered most. This interview was taken a few minutes before McCoun went on the air as a guest Co-host of the Jayne Carroll for his last ever on air radio work after 40 years. It goes without saying that KUIK Radio and HIllsboro go hand in hand and that they have done as much or more than anyone has to create a true local feel to our community. Don and the Station were integral in hosting and supporting the Rose Festival International Air Show and all High School Sports. The station may find new ownership but it was important to have this moment in time recognized. Photos also available and our inside the scenes video is on our you tube channel right here: https://youtu.be/mfifrPprCAs We THANK Don McCoun and the entire staff at KUIK for the many years serving Washington County and the people of Hillsboro, Oregon.
Ethel Waibel Hunter Kauffman (93) and Bertie Waibel Riedweg (93) - On 3/14/2018 Dirk Knudsen went out Highway 219 to the Famington area just across Jackson Bottom and met up with these two amazing sisters. Out on the Riedweg Farm we met and covered a wide range of topics from growing up farm girls to dating and meeting their husbands. Through World Wars, the depression, the death of children, and more these amazing Sisters honored us and all who will listen to this with their words. Other families tied to these ladies include the Prangers, the Denfelds, the Waibels, the Riedwegs, and more. The sparkle in their eyes, the clarity of their voices, the grip of their soft yet firm hands, and the intelligence they displayed will stick with me forever. Family and committment to family is all that they needed to make it this far. The lessons we can learn from these two wonderful Washington County women are many- I even learned how to preserve pork for long periods of time without a refrigerator! This oral history will stick with me for the rest of my life! Thank you Ethel and Bertie!
Ray and Carol Haag have lived in Hillsboro for almost 60 years as of 2018 when we met to discuss their time on the Tualatin Plains. Ray and Carol raised 5 Children and a lot of animals on the 3 acre farm once owned by infamous Banker John Shute and his wife Elizabeth Constable. This property is one fo the oldest and most preserved homes in Washington County, Oregon and is going through a period of change as HIllsboro gets ready for major industrial expansion. Here in 2018 Dirk Knudsen, local resident and Historian, talks with them about life on the farm and the mysterious Methodist Meeting House which was the first place of worship and one of the first structures in Washington County - Circa 1843. The children of Colonel Joseph and Virginia Meek are buried next to the MMH which according to Ray was right across the street from their home. The Haag's are to be credited for preserving the Shute Home and associated buildings and for keeping the history of the Methodist Meeting House alive! Listen to their Words and Voices here below.
Click the Play Button and be patient for it to start. May take up to 1 minute.
Merlin Lewis and Mary Ellen Lewis are to be credited for hundreds of hours of work in the reconstruction and really for saving the Orenco Mercantile in the historic town of Orenco, Oregon. They have lived in Orenco on and off since the 1960's. Listen to them recount the history they shared and some of the information about the town and some of the memories they have. A very important couple to the town of Orenco and Merlin Lewis is to be credited with his master woodworking skills and ability to rebuild the once burned out store building. Click the Play Button and be patient for it to start. May take up to 1 minute.
 
Helen Woodruff - Logie Trail, Timber, Orenco Resident talks about Old Orenco
Listen to 89 year old Helen Woodruff talk with site founder and Historian Dirk Knudsen about Old Orenco and other matters of Life!
Helen lived in Helvetia, Oregon as a child on Logie Trail and spent time in the woods of Timber, Oregon with her father. She has lived in Old Orenco since 1959 and talked about her time there fondly. Click the Play Button and be patient for it to start. May take up to 1 minute.
June Eastman of Beaverton talks about Mr Johnson of McDonald House
We met June Eastman in 2017 standing and looking at the old McDonald house after the opening of the Orenco Nature Park a year or so ago.
She was standing quietly clearly walking back in time in her mind as we approached. Her memories of a wonderful and kind man and of the little town of Orenco, Oregon were noteworthy! We will be back to speak to her no doubt! Click the Play Button and be patient for it to start. May take up to 1 minute.